Bee Hive

Punch Needle approx punched size 3" x 3"


Blackbirds

Punchneedle Embroidery Kit. Finished Size approx 2 1/2" x 4 1/2".


Merry Halloween

4" x 5" cat with pumpkins. Cloth with pre-printed design included.


Mini Pumpkins

Punchneedle Embroidery approx size 1 7/8" x 5 1/4". Printed pattern on backing included.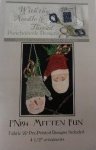 Mitten Fun

Punchneedle Embroidery 4 1/2" ornaments. (fabric and pre-printed designs included)


Morgan Lap Stand

Collapsiable 7"/10" combo hoops Made in USA


Pumpkin Harvest

3 3/4" x 3 3/4" Punch Needle Embroidery by Hooks on Rugs


Pumpkin Keeper

9" tall Weavers cloth with pre-printed design included.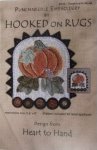 Pumpkin with Mouse

Punch needle Embroidery by Hooked on Rugs. Approx size 5 1/2" x 5" (pattern included for wool applique)


Reets' St. Nick

Punchneedle Embroidery Approx Size 2 1/4" x 5 1/2".


Rudolph

Punch Needle Embroidery by French Fantasy Designs. 6" x 7" preprinted pattern on weavers cloth included.


Squirrel Hooked on Rugs

5 1/4 x 3 1/4 squirrel design with leaves. Pattern includes background with design


The Ice Skater

Punch Needle Embroidery Finished Size approx 3 1/4" x 5 1/2". (pre-printed design on fabric included)


Witch

Punchneedle Embroidery approx size 3" x 3". (printed pattern backing included)