Handi Quilter Hopping Foot Changing Kit

Includes instructions to remove or change out a hopping foot.


Handi Versa Tool

Multi Purpose Ruler


HQ Circle Templates

Set of six circle templates. In sizes 2", 4", 6", 8", 10", & 12"


HQ Mini Circle Templates

Ruler used to make circles in the following sizes 1/2", 3/4", 1", 1 1/2" plus 1/4" straight


HQ Mini Scallop Ruller

8" x 3" Scallop Ruler


HQ Right Angle Ruler

9" outside, 7" inside right angle ruler


HQ Straight Edge Ruler

3" x 12" Straight Edge Ruler


Longarm Basics Series One Borders to Turn or Not to Turn

Learn how to plan border designs, "Chunk: side border designs, stabilize a quilt, adjust panographs, plan attractive corners, knot by hand and bury threads.


Longarm Basics Series One Continuous Line Designs

Learn how to draw your own designs, convert your drawings, plan a travel path, use designs for borders.


Longarm Basics Series One Crosshatching

Learn how to plan your crosshatching the (NO-MATH) way, mark your quilt, use rulers safely, resolve corners. Bonus: Learn different types of threads, choose correct needle, adjust tensions.


Longarm Basics Series One Pantographs

Learn how to choose a pantograph, prepare your quilt top, advance the quilt.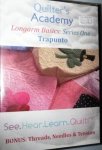 Longarm Basics Series One Trapunto

Learn how to applique and trapunto at the same time, prepare batting shapes, create 4 applique edge finishes. Learn about different types of threads and needles, adjust tensions.


Longarm Basics Series One Using Rulers & Templates

Learn how to set up your machine and frame for ruler work, use the 3-point pressure technique, combine rulers and templates, use rulers safely for various designs.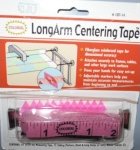 Longarm Centering Tape

Fiberglass reinforced tape for accuracy, adjustable markers help maintain accurate measurements.


Longarm Quilting Pins

Box of 144 - 2" pear shaped white pins. Excellent pins for pinning the headers on your longarm.